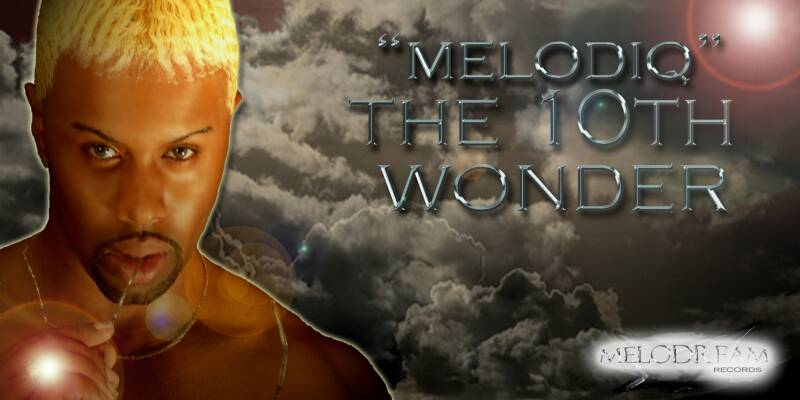 Michael Walker aka MELODIQ "THE TENTH WONDER" was born in Harlem, New York. MELODIQ is not your typical American artist. Owner, C.E.O and PRESIDENT of MELODREAM ENTERTAINMENT, Melodiq is an accomplished writer, singer, mc, songwriter, arranger, musician, composer, multi-instrumentalist, record producer, film director and actor. Melodiq began his music career as a mc, producer and writer within a group called (Mental Assassin's) who worked with Kelly Mac of Penalty Records. Later, Melodiq traveled to Virginia Beach to study under Teddy Riley, with whom Melodiq's father helped to craft early on. This union proved to be invaluable. As Melodiq would learn the art of making hit records, and compositions that would stand on their own. While in Virginia Beach, Melodiq would study with Teddy as multi platinum producers, Pharrell Williams (Neptunes) and Timbaland (Mosley Music Group, Interscope) would do the same. Gaining the influence of these producers honed Melodiq's craft even further. Focused on training his ear as an Artist & Producer, Melodiq would witness projects by Blackstreet, Queen Pinn, Nutta Butta, Joe, Chico Debarge, Monifa, Mike.E, Men of Vision, Lamenga Ford and more!

Melodiq would return to Harlem with partner Act (Amin Joseph) and Mcfly to form a music and film entertainment company, called Milleniai Entertainment. Milleniai would go on to release various music projects and movies. Melodiq suffered a motorcycle accident in 2000 which paralyzed him from the waist down. He began mentoring and spokes modeling for the disabled and physically challenged. This led into performing and sky diving etc. This time proved to be his rebirth and he recorded his first album in Mount Sinai hospital. The album was entitled "FROM THE CHAIR"  which went on to sell over 20,000 units in Germany, Japan, London, The Netherlands and in the U.S. of A. It is still in over 70 internet stores were it can be still be purchased. Melodiq would soon go on to form the entity known as MeloDream Entertainment.

   This new company would prove to be Melodiq's biggest movement yet, and it stands bigger every year than the year before. This incorporation Melodiq has formed is a Film company/ Record company/ Magazine/ Talent Management & Castings/ Audio Visual Studio/ and T.V. Show. Within this establishment Melodiq has acted along side the likes of moguls such as Will Smith and Denzel Washington, and has written or co-written songs for artist like Cassie and Fantasia and Teddy riley. His company has supplied talent for many movies including Notorious B.I.G (ANGELA BASSET) and I AM LEGEND (WILL SMITH), and to magazines such as BLACK MENS MAG to SWEETS and SMOOTH MAGAZINE.  He has earned Directors credits for Music Videos and Movies and will be directing for projects such as (The Chronicles of G-Money in the New Jack Era) and has crafted his own fragrance line. This ultra talented individual they call Melodiq is totally driven and will surely earn his place among the stars, earning the name "Tenth Wonder" for the 10 things he does professionally. He say's he will continue to strive in creating the mecca oasis of entertainment while giving a piece of him self to all who are graced to know him.